In the 90s, for many teenagers in Lima the pleasure found in viewing distorted images through accidental or induced errors – for example data loss, abrupt voltage changes and other induced bugs – could have a rather anecdotal origin. At this time an individual could find an adult cable-channel, of which the signal that reached a television was distorted or 'glitched'. Teenagers would wait anxiously for the cloak of night's silence or the going-out of parents to watch this distorted erotica. In these brief moments the combination of fear (of being caught out), sexual groans hidden in white noise, and the images of naked bodies distorted by a lack of decoding, mixed teenage libido and thanatic drive in what later would turn into a mature taste for visual distortions. This is one of the reasons why, in the upcoming years, many of these teenagers found aesthetic value in the deformation and destruction of reality's digital reflections. As one of these teenagers myself, this experience serves as the start of the framing the developments in Peruvian glitch art, not only from primary sources but personal experiences.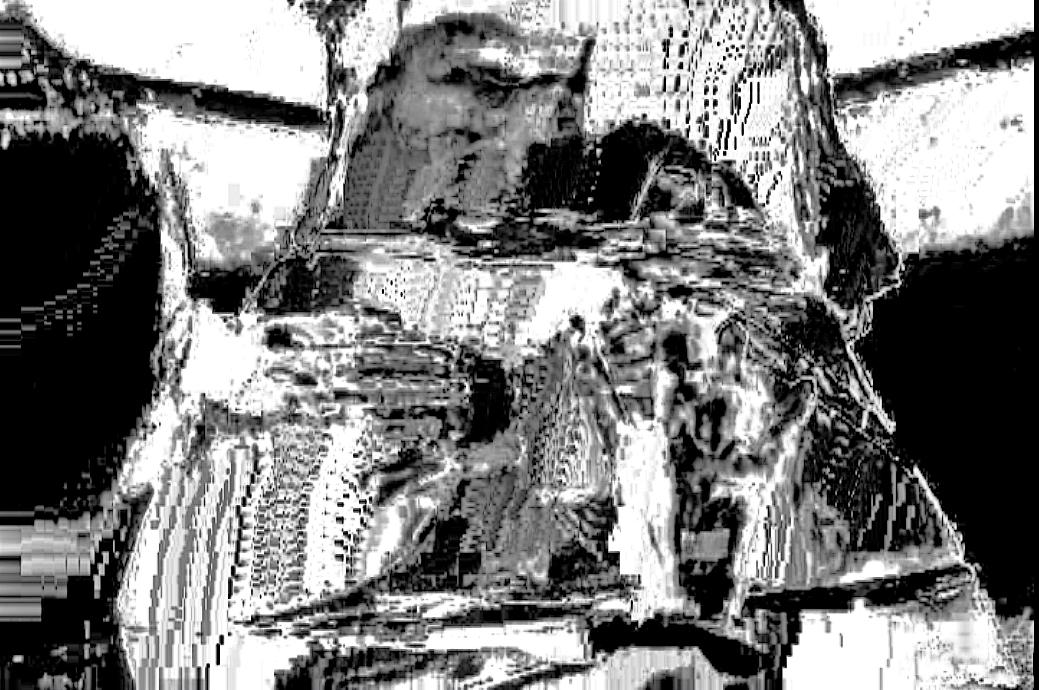 [1] Still from porn video modified by using different compression methods, Paola Torres Núñez del Prado, 2008
It takes a mere visit to Lima to understand why 'glitch art' appeared relatively early there. Lima is an extreme city in which visual and audio pollution prevails; there is widespread chaos in traffic, architecture and society as a whole. In the 80s and early 90s the cities functionality was broken up with blackouts; each of these blackouts had a direct causality from the bombing of a high-voltage tower. These blackouts triggered what can only be understood as a 'glitch' in the city itself. In this sense, glitches have the capacity to evoke far more than mere aesthetic qualities, it can embed images an aura of familiarity and nostalgia.
Error Art vs. Glitch Art:
In light of the introduction, it may not be all that surprising to note that Lima has had an active noise scence since the late 80s. Within its visual counterpart, the use of errors for aesthetic purposes has been common practice. By extension, today Lima would have a strong glitch scene. But does it really? Is it part of the same glitch scene present in Europe or the U.S.A? On that point, is it closer to the scene present on the internet? Further, what are we talking about when we say 'glitch art'? Is it equivalent to the concept of the 'error art'? Could we include glitch art as a subset of error art? Can glitch art be understood purely as a natural extension from the noise scene in the 80s?
Above all else glitch art is the art of inducing error artifacts in visual or audio data. In fact, the etymology of 'glitch' has as much to do with 'failure' as it has to do with 'technical problems' which may or may not be of a digital or electronic nature (1). Further, 'glitch' also has temporal implications; it is usually short in duration (a transgression of sorts) while other types of errors can hang around indefinitely or bring the whole system down. This is of course open to interpretation, since a glitch is fundamentally a type of error.
According to Menkman(2011), the origins of glitch art are prior to 1941; in fact the oldest sample would be Len Lye's short film A Colour Box,1935, which consisted of scratches and paint applied directly to cellulose. Nam June Paik's Magnet TV, 1965, is mentioned as the first example within the electrical/electronic realm. In my opinion, one should put particular emphasis on Digital Dinner TV, 1979, by Raul Zaritsky, James Fenton and Dick Ainsworth, where they recorded, strictly for artistic purposes, the images produced by changing cartridges in a video game console of the time.

[2] Stills from Digital TV Dinner (full video https://www.youtube.com/watch?v=Ad9zdlaRvdM)
Referring to Glitch Art and its origins, Menkman(2011) states:
"While most of these artworks do not have a lot in common, all of them do show that this is the product of an elitist discourse and dogma widely pursued by the naive victims of a persistent upgrade culture (...). In the future the consumer will pay less for a device that can do more, but at the same time will reach a state of obsolescence faster. This quest for complete transparency (the perfect, invisible interface) has changed the computer system into a highly complex assemblage that is hard to penetrate, and sometimes even completely closed off. (...) The user has to realize that improvement is nothing more than a proprietary protocol, a deluded consumer myth of progression towards a holy grail of perfection." (2)
Glitch art would then exist as a reaction that questions both the limits of a particular digital system (computer, smartphone, etc) as well as the global socio-technological system, where errors on a smaller scale (i.e. the particular) would be a transcalar mirror (in the sense described by Danto(3)) of failures within our current system of "technological dependence and constant need to upgrade".
In Perú, however, the nature of glitch is not quite what Menkman(2011) describes. In counter, Christian Galarreta from the Aloardi collective, does not accept the use of the term 'glitch' as for Galarreta the term 'error' has referents beyond the digital and its specific use in Peruvian Art would be as a consequence of the searching for "..solutions to the lack of economic resources and socialization, through electronic recycling and piracy [and the frequent bugs in cracked software, related to] the idiosyncrasies of resourcefulness, among other things". For Galarreta, European interpretations of glitch art are " ...spontaneous and simultaneous, but not decisive"(4). The important difference in framework between Europe and Peruvian glitch art is the reaction towards dependency on upgrade. In Europe and the U.S.A. obsolescence and 'the new' drive glitch art to exploit the ever quickening technological cycle while in Perú resourcefulness and necessity drive glitch art to exploit the extension of this technological cycle.
Glitched state(s):
The practice of inducing errors in images and video in Perú started in the late 90s as part of the electronic and experimental noise music scene. In Lima in particular, one could speak of two different scenes; two different conceptual seeds that germinated on each side of the Rimac River. On one side, the 'Intelligent' - a term used somewhat as a joke, assumedly taken from Intelligent Dance Music - understood as Aphex Twin or Autechre - that had among them musicians like Kollantes, who used glitches in his visuals when playing live in the early 2000s, performing in middle-class districts such as Barranco, Miraflores or Surco. Crossing downtown to the other side of the river, and to the districts populated by the descendants of recent immigrants from the Andes (considered a low-income area), one could find the house where the Aloardi collective did their early experiments in the aesthetics of error, looking intentionally for the audiovisual results of using 'junk' electronic equipment.
The Intelligent were closest to the industrial/hardcore project Insumisión; Leonardo del Castillo, for example, known as Leo Bacteria and founder of the project mentioned above, could be placed within the noise genre since 1991. Although the Noise genre started in the 70s with groups like Throbbing Gristle, in Peru specifically, the first noise bands appeared in the late 80s, although at the time pioneer groups like Atrofia Cerebral or Distorsión Desequilibrada were more linked to the hardcore and metal scene. The noise scene consolidates itself at the turn of the century, the moment in which the first experiments with visual glitches were being made. In fact the noise and glitch scenes overlapped until relatively recently, when the latter became defined as an independent visual aesthetics.
Both groups in Lima, either directly or indirectly, used their different artistic interpretation of glitch and error to question and fight their dependencies on imported technologies by learning to enjoy the failures found in outdated electronic systems. When taking the concept of 'upgrade' as parallel to the notion of 'development' given to Peru by the First World the embracing of errors would ultimately lead to empowerment. In this way, if we take the transition between being a 'developing country' to a 'developed country' as being, in economic terms, an upgrade, staying downgraded by choice becomes a rebellious act in itself. Consumer culture is not, in the Peruvian case, what is contested. There are no naive victims here; what Menkman(2011) argues implies a scenario based on high income and on being able to afford changing gadgets at the speed of the technological cycle which is not the case in Peru.
The aesthetics of errors in Perú
Currently one could speak of a second (or maybe even third) wave of artists who may not necessarily include themselves as part of the glitch 'movement', participate in art exhibitions such as in the Glitcha!, (2015), show in New York; Diego Collado's Data Recovery, (2015), Lima; and The Wrong Biennale (2015), Lima. The controversy surrounding the ICPNA 2014 Photography Awards First Prize would deserve a separate article, taking into account how polemical Samuel Chambi's pieces were for some. In words of Photographer Jorge Heredia when interviewed for an important Peruvian newspaper in 2014:
"I've seen Samuel Chambi´s winning pieces in a recent competition (Icpna Hall of photography) and I need to talk with him when I see him. He is confused: plain and simple. He is not sure what he is doing. What I find amazing is that there has been a jury that has given him the award. It's just Photoshop, it´s not photography. There is no reality." (5)

[3] Samuel Chambi, Piscina, Habitación de Elías, Calle del Inti. (2014)
Despite the controversy and its implications, the case is particularly relevant if we consider that, according to the artist, these images were generated through the use of a defective scanner, meaning that a glitch artwork got a prize at a prestigious and often conservative contest, in turn vindicating glitch art in the local mainstream art scene.
So when the photographs' legitimacy-as-art were questioned those who had worked with the aesthetics of error waited eagerly for an appropriate mentioning of early examples of work and shows (6) or maybe recalling the glitchy visuals already present in the electronic music festival Looperactiva(2003). However as we continued to hear the name of Joan Foncuberta (renowned Spanish photographer and theorist) over and over again being repeated by both critics and curators as the sole defence to Chambi's work, only disappointment was left.
By the time the work of another former student of Centro de la Imagen, Diego Collado and his Data Recovery series, selected by Joan Foncuberta himself to be part of Photoespaña 2014, not much was expected although still surprises the little mention given (or total lack of) to the history of Peruvian error art beyond the samples of the known Spanish photographer. In this way, glitch art's origins associated with both social violence and the recycling of electronic and piracy, as well as the confrontation against an imported statu quo, is kept in denial – precisely the political implications of such aesthetics, deeply rooted in hacker culture, which, in the case of Perú, goes hand in hand with piracy, a mix that can be seen as both an independence movement and a parallel industry in a country lacking of big-scale technology production since the early 90s.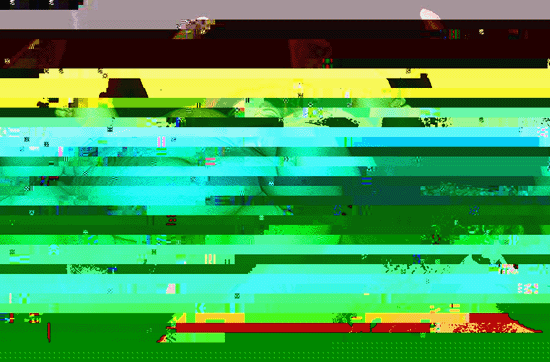 [4] G. Castillo and G. Galarreta "Induction of Error", 2004
Although neither referenced nor defined, there is a glitch scene in Peru that may continue keeping its underground aura from the official visual arts scene for a few more months. Needless to say, what goes on in internet is completely different: the various glitch art/aesthetics blogs, facebook groups, virtual galleries and internet projects such as The Wrong, allows direct interaction among people working or enjoying glitch aesthetics, unfortunately unaware of its political implications for the most part.
It seems that hidden nature of the Peruvian glitch scene will continue to be so until it succeeds in attracting enough late middle-class teenagers or young adults, making it commercial and consequently interesting for critics and curators. Hopefully by then the newfound glitch-followers are well aware that the movement is already more than ten years old in Peru. A fact implying that glitch art is not, in the end, as imported nor as cutting edge as some would like it to be.
References:
Zimmer, Ben, The Hidden History of Glitch, for Visual Thesaurus,
https://www.visualthesaurus.com/cm/wordroutes/the-hidden-history-of-glitch/
Menkman, Rosa, Glitch Studies Manifesto, in Video Vortex Reader II, Institute of Network
Cultures,
http://art310-f12-hoy.wikispaces.umb.edu/file/view/Glitch+Studies+Manifesto+rewrite+for+Video+Vortex+2+reader.pdf
Danto, Arthur C. 1981. The Transfiguration of the Commonplace.
Galarreta, Christian, Personal Interview, 2015
Planas, Enrique, Polémica por Premio Salón ICPNA, Article in El Comercio Newspaper
http://elcomercio.pe/luces/arte/polemica-premio-salon-icpna-esta-fotografia-noticia-
1733032
especially the show organized by Umberto Roncoroni for ARTWARE 01, PostDigital, in the Miró Quesada Gallery, http://www.digitalartperu.org/Artware01d.html in 2004.This works in this show used techniques like databending and source code manipulation, of which have become common practice today for achieving desired glitches.
Written by Paola Torres Núñez del Prado and edited by Matthew Austin.
Paola Torres Núñez del Prado (PE/SE) is an artist who has been exploring the limits of visuality and sound, starting from the human voice, the sounds of nature (e.g. the river and the wind) to those whose listening is usually thought as less harmonious, such as machine noise, sound saturation, or computer sounds. In this way, she explores notions of interpretation, translation, misrepresentation and perceptual cross-modality; the generated distortions/destruction on the patterns previously mentioned serve as an analogue on the failure of human subjectivity and its intervention on the natural world. Her research with the Shipibo is part of a larger investigation which is also a reflection of both the conservation of the environment and the impact of western culture imposed upon traditional societies.
Paola Torres Nuñez del Prado holds an M.A. from The Royal College of Art, Sweden and an undergraduate degree in Studio Art at Hunter College, City University of New York (2003-2004). Currently she is finishing her thesis for an M.Sc. in Interactive Media Design. She has exhibited her work in countries such as the United States, Sweden, Perú, Brasil and Italy, as well as curating projects in Lima, Cuzco, New York and Stockholm.